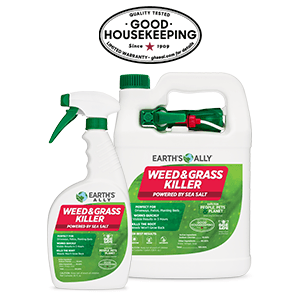 Earth's Ally Weed & Grass Killer has earned one of America's most coveted and influential consumer emblems, the Good Housekeeping Seal.
Developed to help consumers cut through the clutter of product claims and make better purchases, the seal has served as a symbol of trust and reliability since 1909.
Chemists and engineers at the Good Housekeeping Institute, a state-of-the-art laboratory in New York City, rigorously tested Earth's Ally for efficacy and safety, and were impressed with its ability to deliver visible results in three hours with no harsh synthetic chemicals.
Developed for high foot traffic areas, Earth's Ally is a non-selective herbicide ideal for use on and around patios, driveways, playgrounds, mulch beds and sidewalks.
Earth's Ally kills common weeds with the power of sea salt. Made with ingredients that many homeowners can find in their kitchen, the highly effective formula kills common weeds like broadleaf, dandelion, crabgrass, clover, ivy and chickweed.
When used as directed, Earth's Ally is safe for people, pets and the planet and has been proven to kill weeds down to the root, so you don't end up treating the same weed repeatedly.
Keep Growing Your
Gardening Knowledge
Join the Earth's Ally newsletter for organic gardening tips, exclusive promotions and the latest product updates.