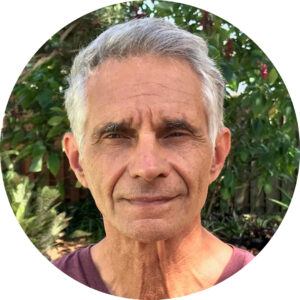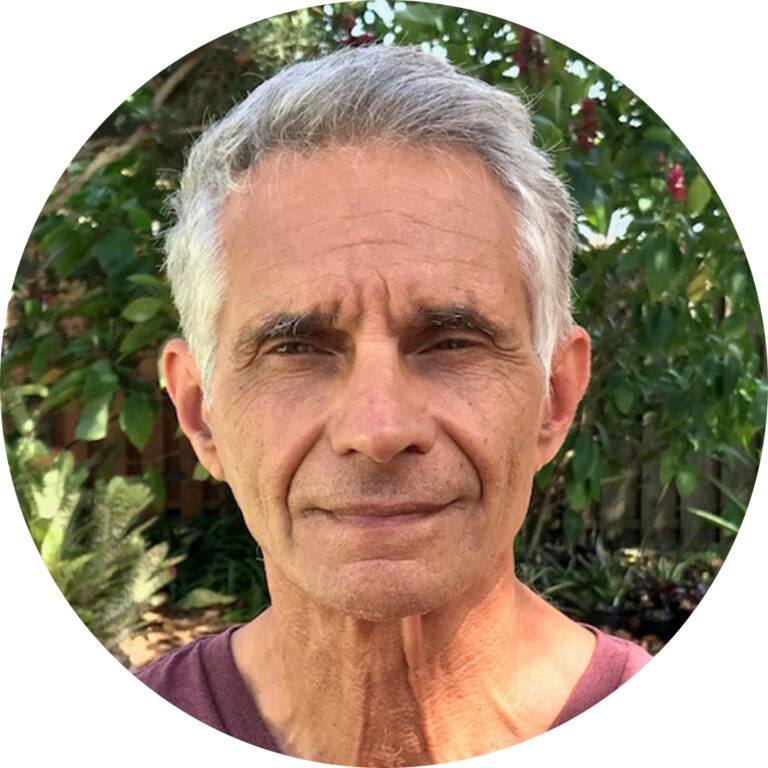 By Angelo Randaci, Earth's Ally Horticulturist
Angelo's passion for plants has led him to explore many areas of horticulture including research, grounds management, technical training, design and nursery management.
A number of wildflowers include the word "weed" in their common name: Joe-pye weed, butterfly weed, and ironweed to name a few. While the word weed is associated more with undesirable plants, some are among the most beautiful plants that rival even the most popular perennials. There is no need to limit them to a wildflower garden or meadow when we can put them to broader use. Blending both cultivated and wildflower varieties is an approach to gardening that actively encourages nature into our gardens while improving the garden's overall health through diversity.
Wildflower Selections
Selections are often made from native species. They offer the same attributes as their wild counterparts, but in many cases are more suitable for the home garden. Some may have a more compact habit and size or a wider range of flower colors. Others were chosen for outstanding leaf and stem color, longer blooming periods, and even improved disease resistance.
Selections are not hybridized plants, but rather plants that have been picked out of a group of seedlings, or plants discovered in the wild. Selections will not come true from seed and must be propagated by cuttings or division.
Where to Plant Wildflowers
Wildflowers grow well in their native habitats, surviving in marginal soil and fertility. Most wildflowers however will thrive in a well-drained garden soil along with your other plants. No special amendments or requirements are needed.
Deadheading Wildflowers
Deadheading is removing spent blooms to tidy up the garden and encourage more flowers. This is a standard gardening practice used to maintain the health and vigor of your plants. In some cases, deadheading may promote a second bloom period.
Because wildflowers have the added benefit of providing food and cover for wildlife after blooming, you may want to leave the spent blossoms and foliage, especially in an informal garden setting.
Self-Seeding Wildflowers
Many wildflowers have an abundant seeding habit. This is not necessarily a bad thing. Columbines, for instance, are notorious for dropping seeds throughout the garden. Allow them to seed among your other plants for early spring color. You can always pull unwanted seedlings or give them to friends and family members.
Pollinators & Wildflowers
All the plants on this list are favorites of pollinators including bees, butterflies, beneficial insects, beetles, and birds. They provide food and habitat while offering dramatic color to the garden. Adding just a few pollinator-attracting plants will make the garden come alive as the busy bees and other pollinators visit your flowers in search of food, nectar, and pollen.
Related: Let's Learn about Bees: Our Most Important Pollinators
Wildflower Pests & Diseases
Wildflowers, along with other plants in your garden, are susceptible to pests and diseases.  Insect pests include whiteflies, aphids, thrips, and mites. Powdery mildew, downy mildew, leaf spots, blights, and rust are common diseases found in the garden. Protect pollinators and beneficial insects by avoiding synthetic pesticides and using Earth's Ally bee-safe products where control is necessary.  They are both safe and effective for people, pets, and the planet when used as directed. 
Related: How to Build a DIY Bee House
(Some Of) Angelo's Favorite Wildflowers for Your Garden
Joe-pye weed (Eutrochium sp.)
This highly ornamental plant puts on an impressive and extended flowering show in mid to late summer when many perennials have finished flowering for the season. Large clusters of mauve or pink-purple flowers create a wave of lightly scented blossoms above attractive dark green whorled leaves.
A few selections of Eutrochium with a more compact habit are Baby Joe, Red Dwarf, Little Joe and Gateway.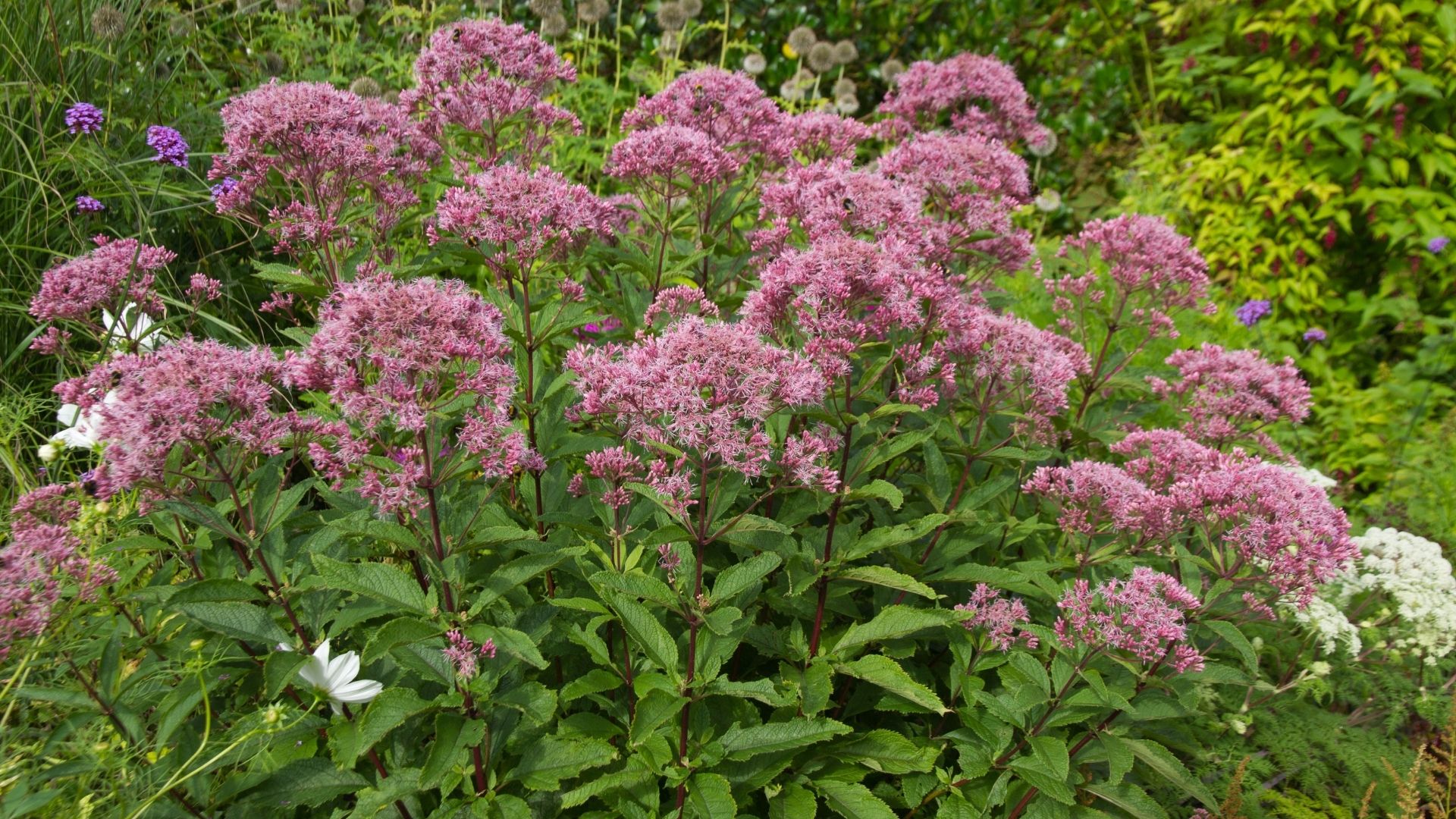 Ironweed (Vernonia sp.)
Ironweed is another long-blooming native that presents a big presence in late summer. The clusters of bright purple flowers provide a dramatic accent in the garden for 6 weeks or more.   Narrowleaf Ironweed (Vernonia lettermannii) Iron Butterfly is a compact selection growing 3 feet tall blooming July through August.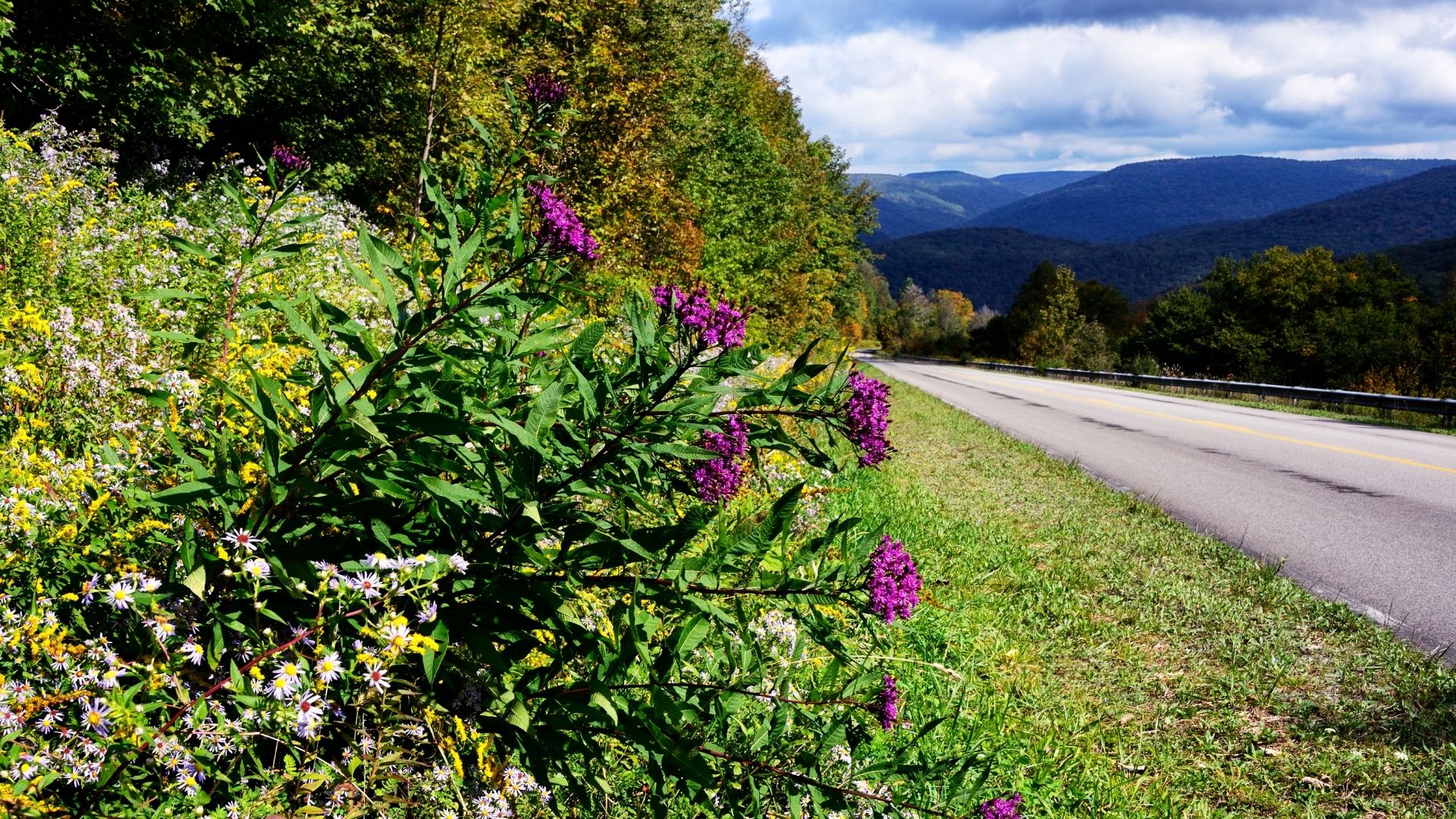 Tip: While taller growing perennials such as Joe-pye weed and Ironweed are well suited for the back of the border, you can control the height by pruning. Cut back foliage by about 1/2 to 1/3 in mid to late spring. You will get multiple shoots growing from your pruning cuts resulting in a bushier, more compact plant with more flowers. Pruned Joe-pye and ironweed can then be used in the middle of the border. I like to prune a few of them and leave others to grow to their full height. The pruned plants often bloom a little later than non-pruned plants, extending the overall flowering period.
Coneflowers
We have a few categories of what are commonly called coneflowers. This includes several genera of plants including Echinacea, Ratibida, and Rudbeckia.
While there are numerous selections in many different colors, the true native coneflowers carry some of the most artistic flower forms. This group is among the best flowering plants.
Rudbeckias
Rudbeckias, commonly called black-eyed Susans, gloriosa daisies, or coneflowers, feature a prominent, raised central disk (or cone) in either black, brown, or green. Most are considered short-lived but will establish themselves by seeding.
Rudbeckia fulgida is a clump-forming perennial blooming from mid-summer to fall.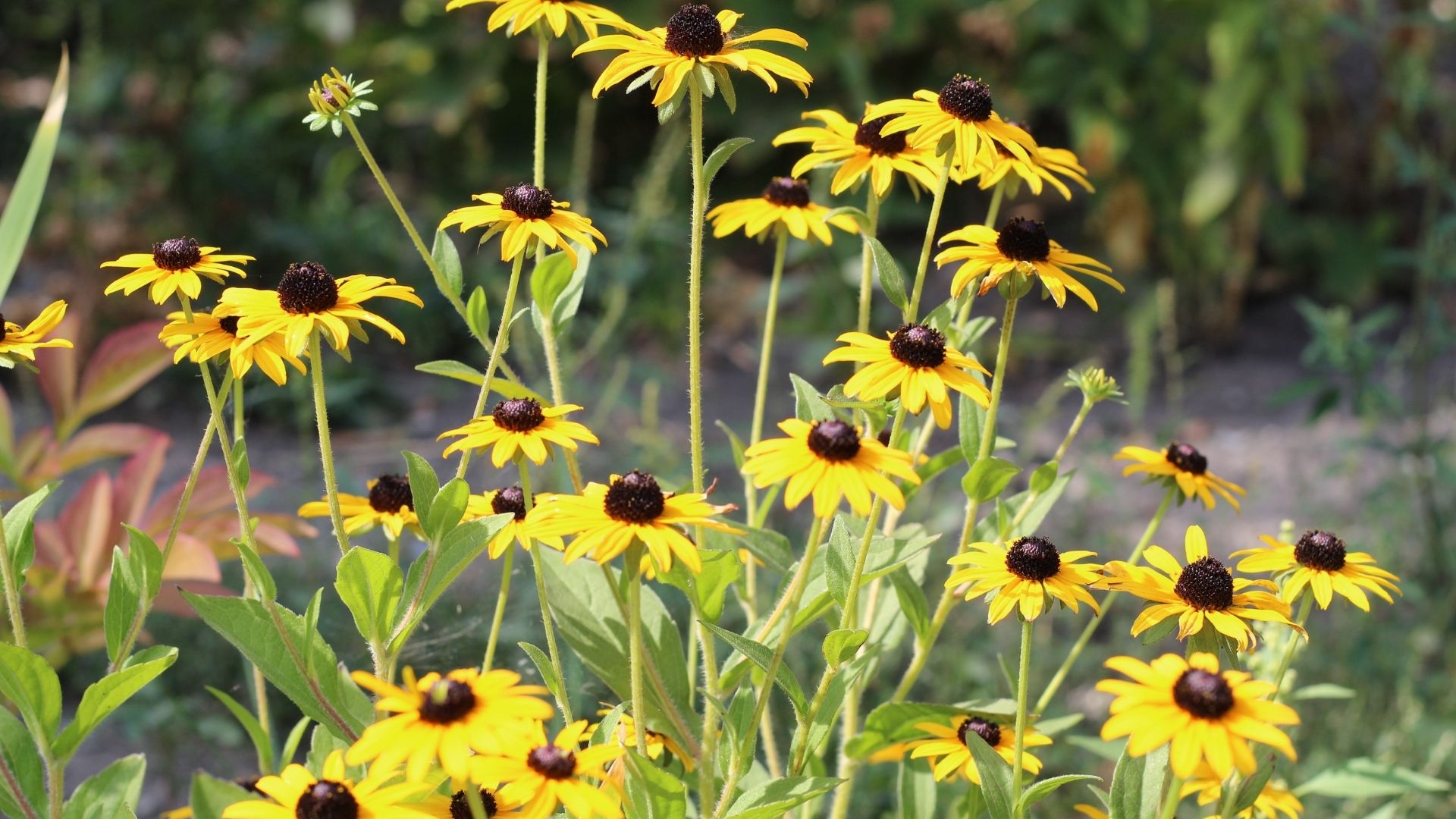 Rudbeckia hirta is a biennial meaning that it will bloom during the second season, then die after reseeding. This is the one most often seen along roadsides.
Rudbeckia hirta gloriosa known as the Gloriosa Daisy was introduced by the W. Atlee Burpee Seed Company in the 1950s and is considered a short-lived perennial.
All coneflowers are outstanding plants for the garden, but R. fulgida is probably the longest-lived and longest-blooming species. Rudbeckia fulgida var. sullivantii or Goldsturm, an introduction from Germany, is one of the most popular and most dependable plants for the garden.
Prairie Coneflower (Ratibida columnifera)
Prairie coneflowers brighten borders with a profusion of color over a long season. They are not fussy about soils and are easy to grow from seed. Most notable are the long, cylindrical center column-shaped cones of each flower borne on top of downward-facing petals (ray florets) in yellows and reds.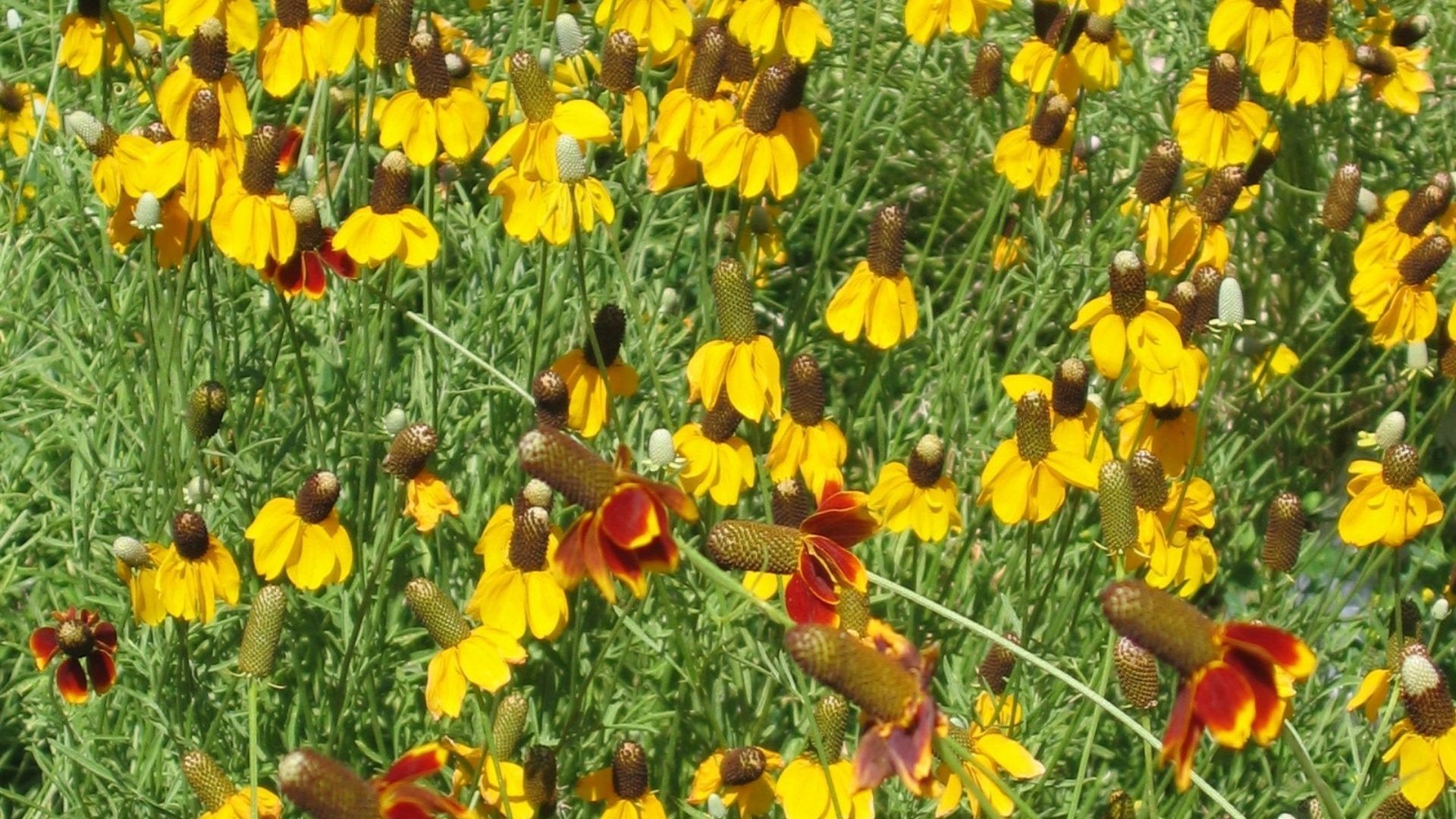 Purple Coneflower (Echinacea purpurea) and Pale Purple Coneflower (Echinacea pallida)
Purple coneflower is native to prairies, meadows, and open woods in central to southeastern and Midwestern US and blooms throughout the summer into fall.
Purple coneflowers are often seen along roadsides and in fields. Because of many of the hybrids that have been bred, the native coneflower is often underused. The showy petals (ray florets) droop almost skirt-like around a spiny center.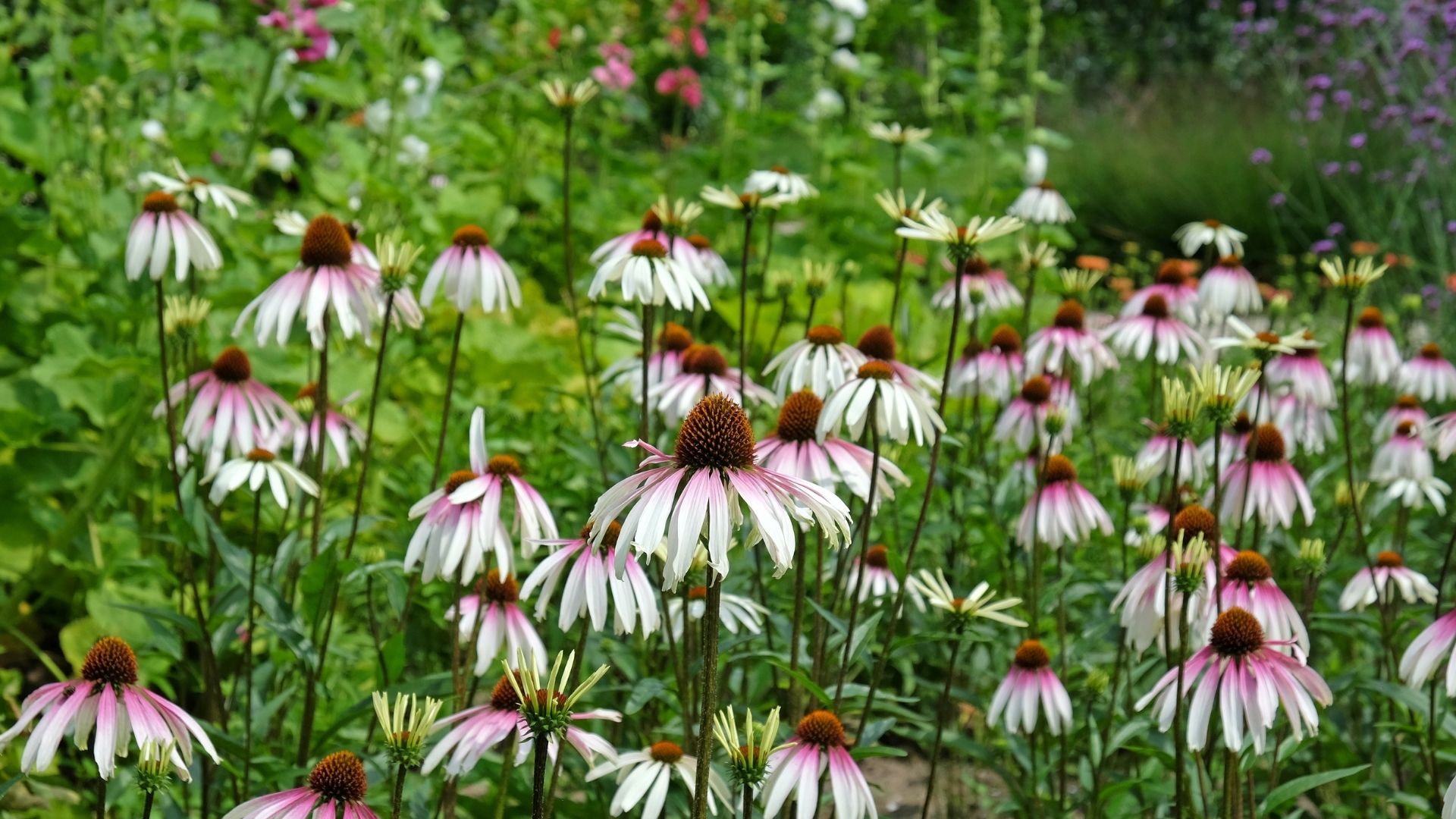 Blazing Stars (Liatris sp.)
Liatris, also known as Blazing Star or Gayfeather, is often used in wildflower and meadow plantings, but this long-blooming perennial will put on an impressive and extended flowering show within any garden theme. Distinct upright flower spikes produce stately, wand-like purple flowers in summer to early fall. They are unusual in that the flowers bloom from the top and work their way down the stalk as the season progresses. Pink and white flowered specimens are also available.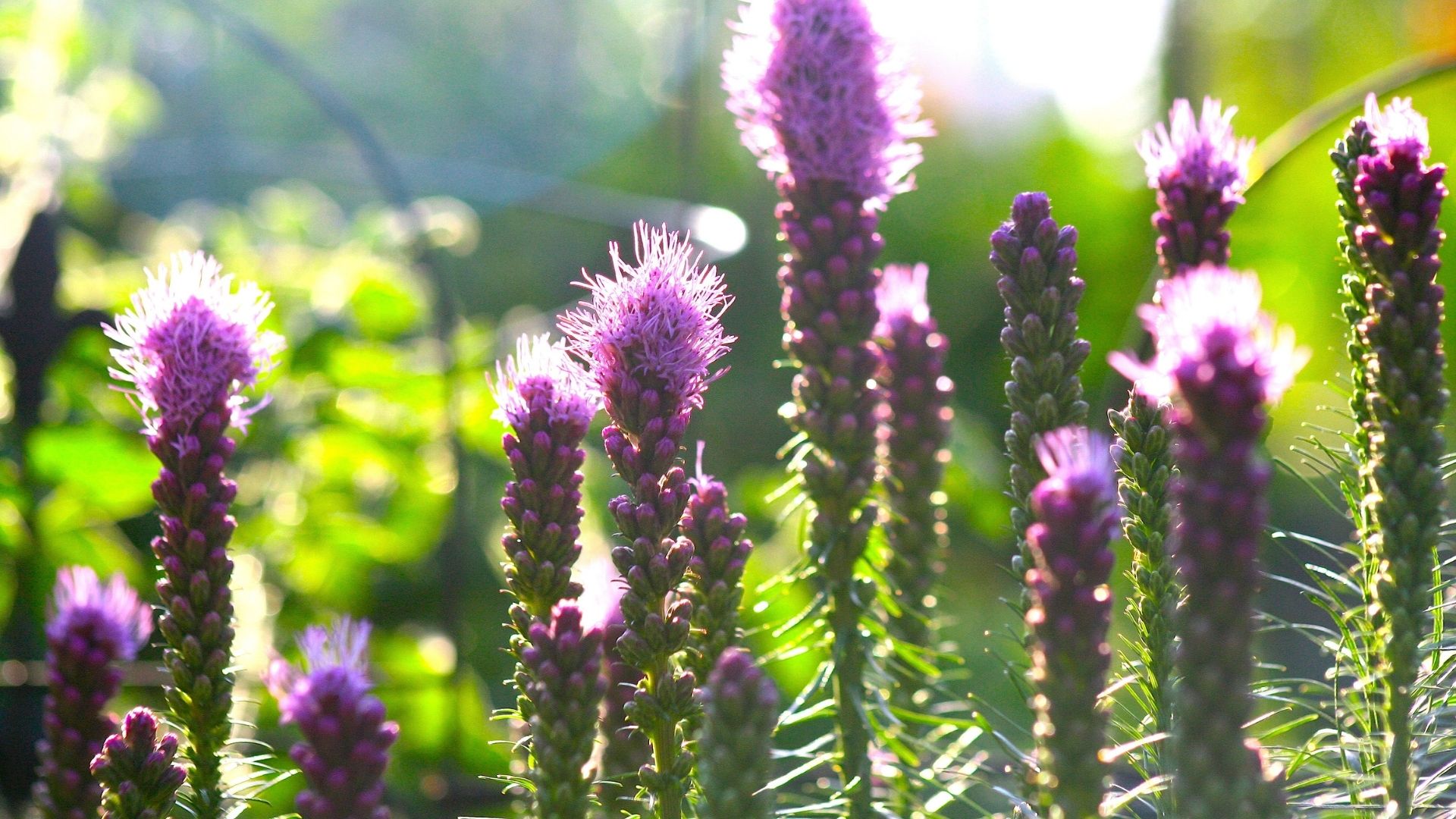 Butterfly Weed (Asclepias tuberosa)
Butterfly weed is a showy plant often seen along roadsides and meadows. This care-free perennial sparkles in the border with its bright orange flowers that attract many pollinators, especially monarch butterflies during the summer months.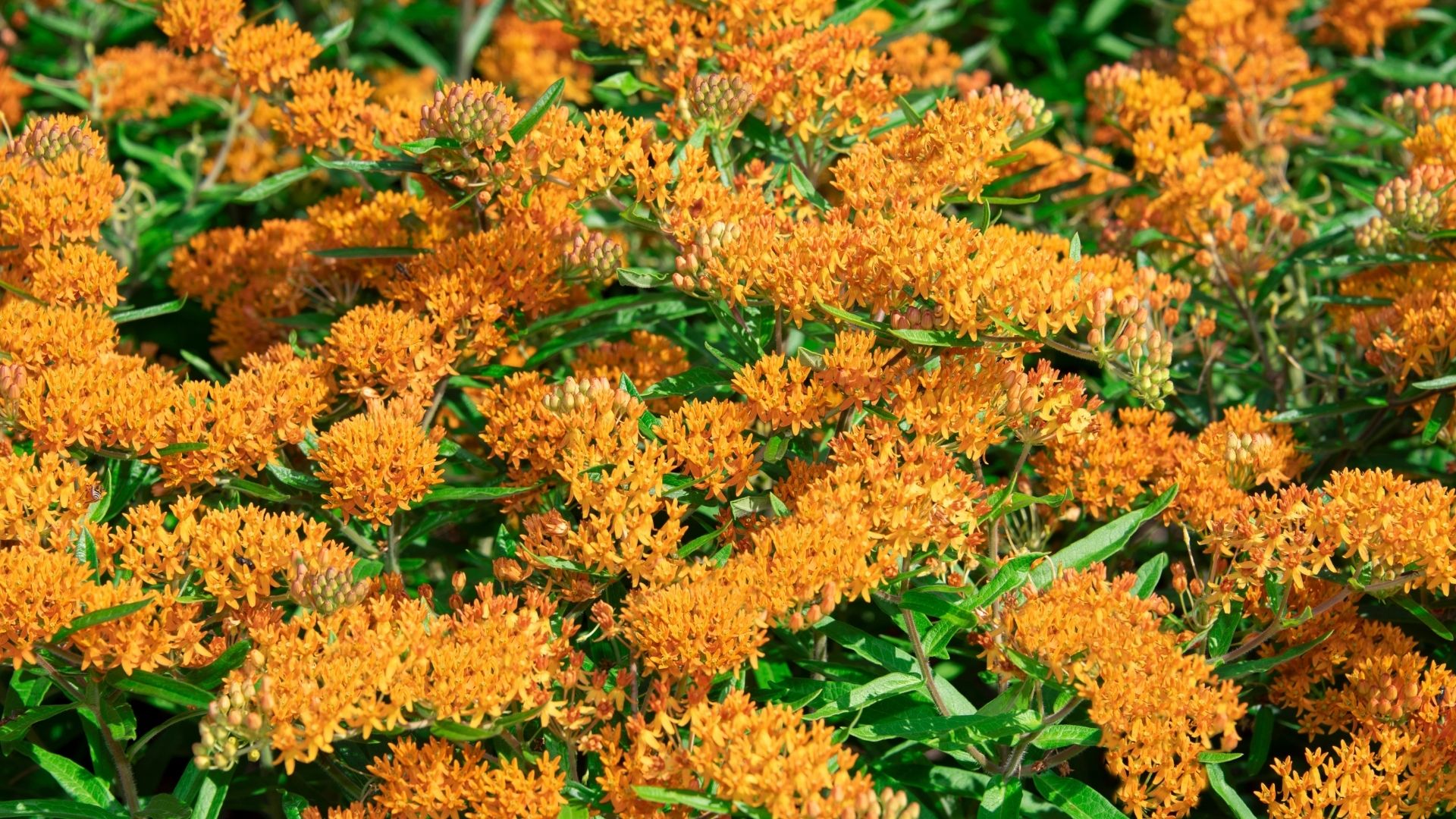 Grass Wildflowers
These grasses will add graceful texture and year-round interest to your landscape. The only maintenance required is cutting them back to the ground in early spring before new growth begins. Grasses are good for softening hardscaping. They add accents or texture and color when grown in containers around decks and patios. Here are a few outstanding grasses to grow.
Muhly grass (Muhlenbergia cappillaris)
Muhly grass is one of the showiest, most beautiful grasses when in bloom. The purple-to-pink hue of the seed heads above the thin finely textured blades creates show-stopping color for 1-2 months in late summer to fall.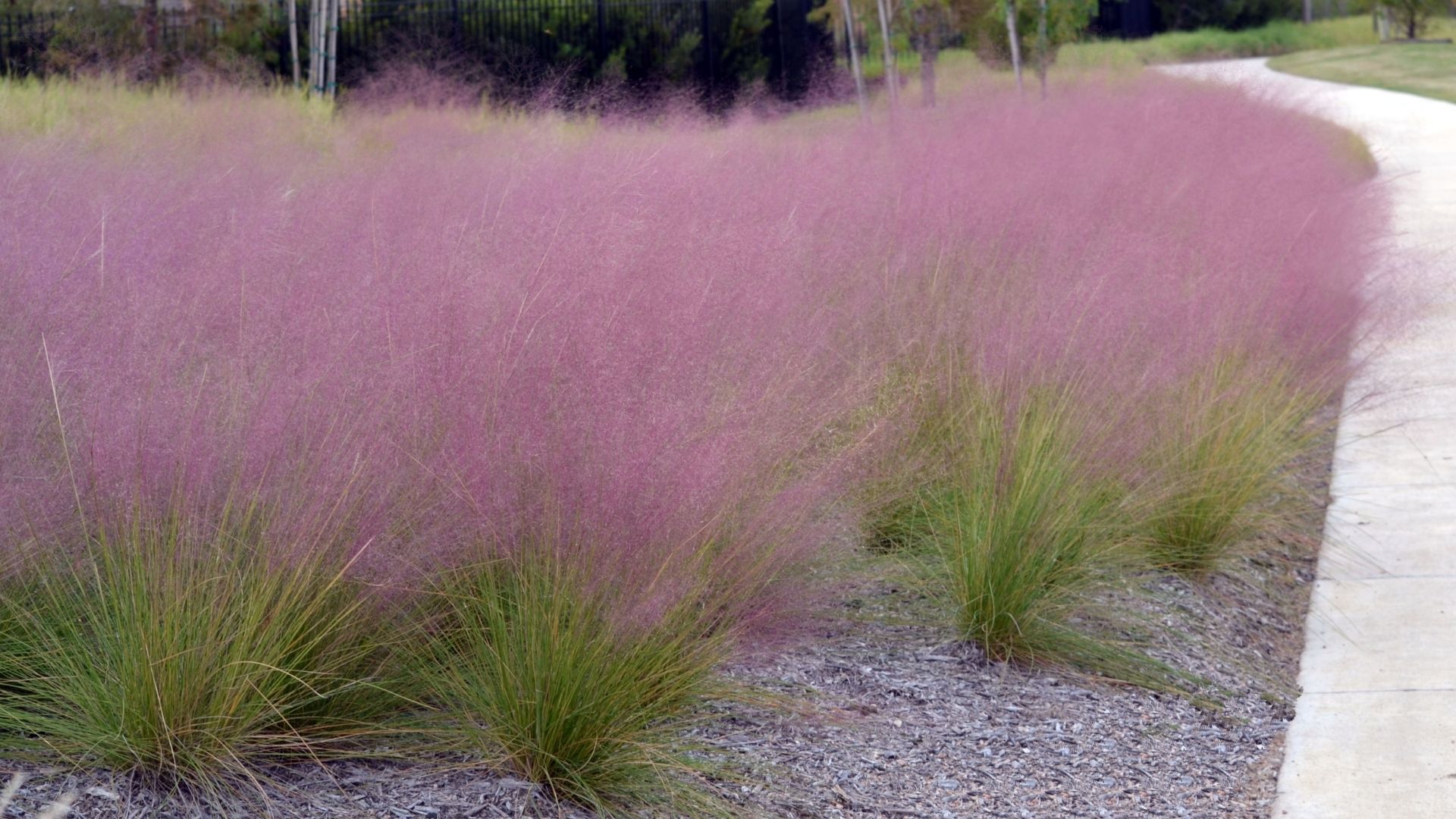 Switch Grass (Panicum virgatum)
This hardy native will provide year-round interest with its strong upright habit and attractive seed heads. Use as a strong vertical element in contrast to plants with rounded or spreading habits. Selections include Northwind, Prairie Fire, and Dallas Blues.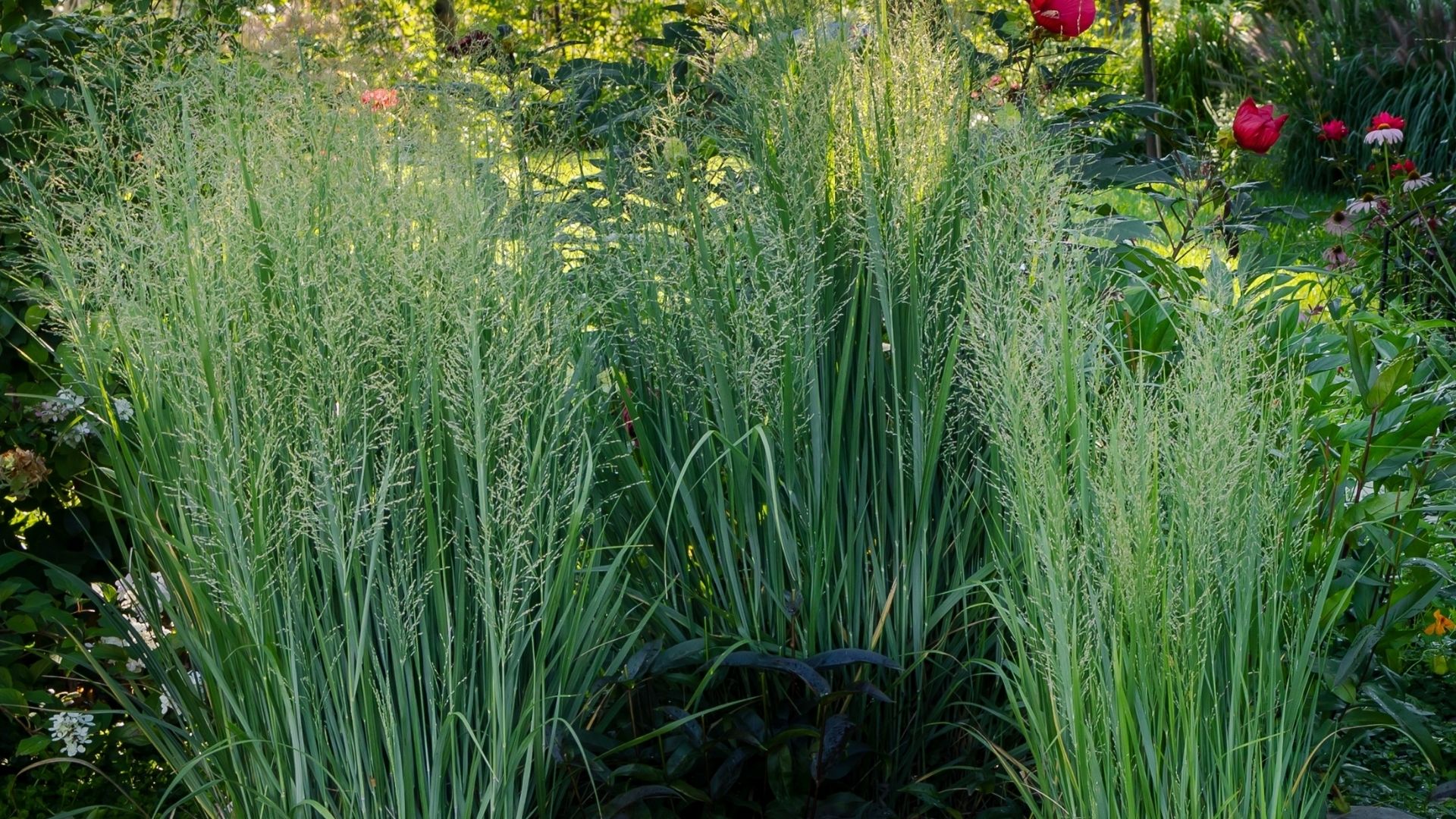 Little Blue Stem (Schizachyrium scoparium)
Little Blue Stem is a native grass prized for its blue-green leaves and upright form. The plants turn a reddish or coppery color after frost, which remains throughout the winter. There are a number of selections and cultivars to consider. These include Standing Ovation, Blaze, Blue Heaven, and others grown for superior habit and color.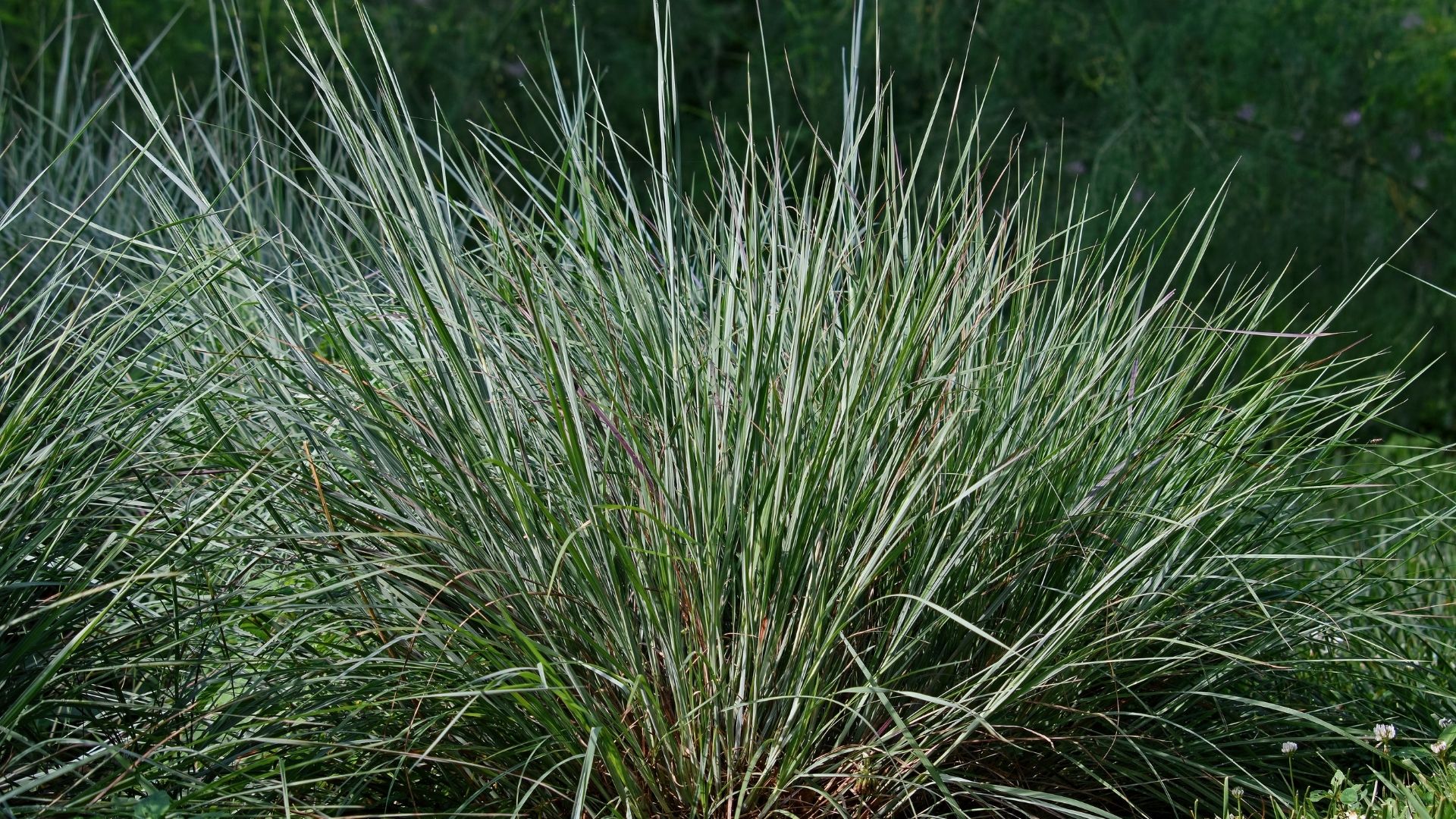 Blue Fescue (Festuca ovina glauca)
Blue fescue is a low-growing, compact grass with vibrant blue-colored leaves that turn to a blue-green in the summer. They will remain evergreen in mild climates. Elijah Blue and Sea Urchin are two popular varieties commonly offered in nurseries.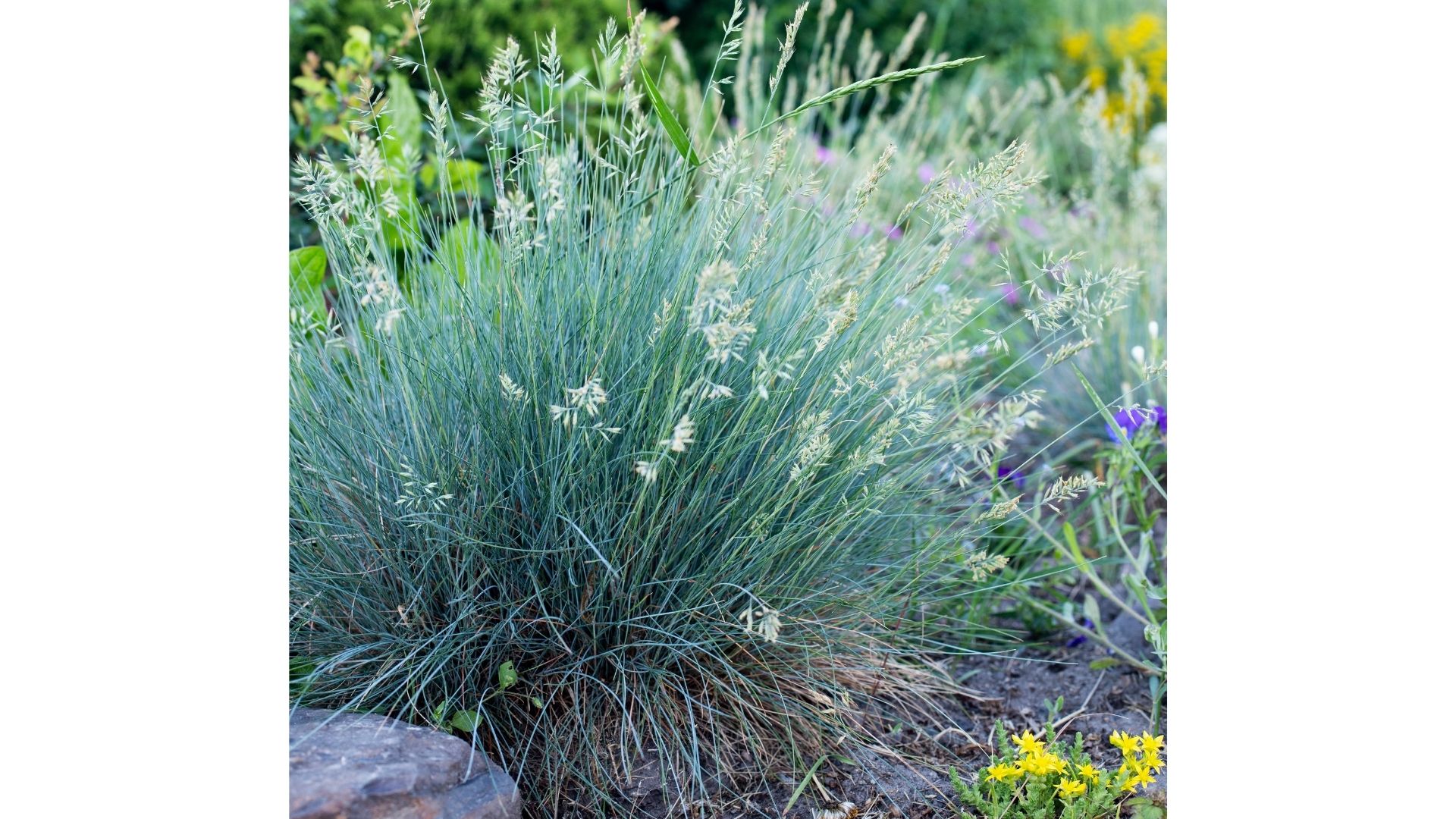 Where to Buy Wildflowers and Selections
Purchasing Wildflower Seeds
American Meadows, High Country Gardens, Prairie Nursery, and Wildflower Farms offer a wide variety of wildflower seed mixes that are separated according to different regions in the US. Selections of these native grasses are also available.
Purchasing Wildflower Selections
Some of the more popular selections of native plants are offered through nurseries and garden centers locally, but search the internet or see below for named selections and nurseries offering them.
Bluestone Perennials
Joe-pye Weed Gateway
Little Bluestem Blue Heaven
Heritage Perennials
Switch Grass Prairie Fire
High Country Gardens
Ironweed Iron Butterfly
Joe-pye Weed Baby Joe
Joe-pye Weed Little Joe
Joe-pye Weed Red Dwarf
Little Bluestem Blaze
Little Bluestem Standing Ovation
Monrovia
Little Bluestem Blue Heaven
Switch Grass Northwind
Switch Grass Dallas Blues
Walter Gardens
Little Bluestem Blue Heaven
Related: How to Create a Pollinator Garden
Garden Design Tips for Wildflowers
Rather than sowing seeds directly in the garden, sow them in pots and grow them on until they reach a size that will be able to compete with the other plants once introduced into the garden. Another advantage to growing in pots is that you can manage the design by deciding exactly where you want to plant them.
The plants mentioned on this list hold their own in the garden as a single specimen but look especially attractive when planted in drifts that are repeated throughout the garden.
Grow native specimens in containers if you have limited space. They will add color to patio areas, window boxes, or anywhere you wish to have color where there is no soil for planting.
Your garden will also serve as a cutting garden for bringing fresh cut stems indoors. Many of them are long-lasting in vases and you can also preserve their beauty through the winter months by drying the flowers and seed heads.
Purchase potted plants when possible unless a large quantity is needed. A potted plant will mature much more quickly than any grown from seed. You can also propagate your plants sooner to spread them around the garden.
Plant combinations- Pair spreading yellow flowering varieties with purple spiky plants. An example is planting rudbeckias with liatris. Purple coneflowers would combine well with goldenrods or mix the different species of coneflowers together for a mass display.  The rich orange flowers of butterfly weed will contrast beautifully with any of the purple-flowered plants. 
We'd love to hear how Earth's Ally is helping you grow healthy gardens. Share your experience with our bee safe formulas and stay connected with the #EarthsAlly community on Facebook, Instagram and Twitter for access to our latest blog posts, giveaways and exclusive promotions.
Keep Growing Your
Gardening Knowledge
Join the Earth's Ally newsletter for organic gardening tips, exclusive promotions and the latest product updates.